XCMG QY70K-II 70Tons Used Truck Crane Price cheap grúa móvil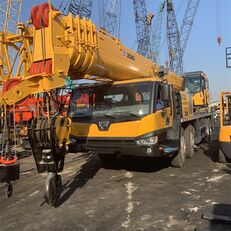 1/10
≈ 72.320 €
≈ 66.490.000 CLP
Primera matriculación
2020
Ubicación
China
Shanghai, Jinshan District
Fecha de publicación
ene 15, 2022
Carrocería
Soporte para rueda de repuesto
Equipo adicional
Ruedas de aleación ligera
Estado
Inspección técnica válida hasta
2021
XCMG qy70kc crane parameter configuration
essential information
Tonnage (ton) 44.8
Lifting capacity
Maximum rated lifting capacity (T) 70
Maximum rated lifting torque (kn. M) 2812
Minimum working range (m) 3
Maximum lifting height - basic arm (m) 12.4
Maximum lifting height - full boom (m) 55.4
Maximum lifting height - basic boom + auxiliary boom (m) 70
Maximum lifting capacity (ton) 45-90 tons
Boom size
Boom length - basic boom (m) 12.7
Boom length - full boom (m) 48
Boom length - basic boom + jib (m) 64.5
Operating speed parameters
Maximum lifting speed of main winch (M / min) 135
Maximum lifting speed of auxiliary winch (M / min) 90
Boom full extension time (s) 110
Boom luffing time (s) 55
Slewing speed (RPM) 2.0
engine
Chassis engine model mc11.36-50
Rated power (kW / RPM) 276 / 1900
Driving parameters
Maximum speed (km / h) 90
Minimum turning radius (m) 12
Maximum gradient (%) 41
Approach angle / departure angle (°) 19 / 13
Minimum ground clearance (mm) 307
Machine specification
Overall length (mm) 14700
Overall width (mm) 2790
Overall height (mm) 3820
Wheelbase (mm) 1470 + 4500 + 1350
Working weight (T) 44.8
Outrigger span
Longitudinal × transverse (m) 6.545 * 7.9
The machine condition
1. Good running condition machine in Shanghai China
2. All parts are well maintenance, can be inspected
3. Low working hours
4. Spare parts available
Our services
We would serve you as good as we can:
1. Book hotel for you.
2. Pick you up at the airport.
3. Be your translator and show you around in Shanghai.
Any interest please let me know and welcome your price consultation any time,We would like to offer you the best price and service.
We Kaiying Trading Co.,Limited,specialize in providing each of our customers with a variety of used heavy machinery and construction equipments.
20-year experience has made us an expert on used construction equipments.
We specialised in all kind of japanese used original construction euipement SALES:
1.Used Truck Crane(TADANO /KATO /LIBHERR /KOBELCO ETC. Japanese Main Popular Brand )
2.Used Crawler Crane(KOBELCO /SUMITOMO /HITACHI /IHI ETC.Japanese Main popular Brand)
3.Used Rough Terrain Crane (KOBELCO /TADANO /KATO /GROVE ETC. Japanese Main Popular Brand)
4.Used Chinese Brand Crane (XCMG /SANY /ZOOMLION ETC.Chinese Main Popular Brand)
5.Used Fully Original Japan Import Japanese Electrical Forklift(TOYOTA /KOMATSU /NICHIYU /TCM /SUMITOMO /NISSAN ETC.Japanese Main popilar Brand)
6.Used Fully Original Japan Import Famous Brand Excavator (CAT /KOMATSU /KOBELCO /SUMITOMO ETC. Japanese Main Popular Brand)
7.Used Payloader Japanese Brand (CAT /KOMATSU /KAWASAKI ETC. Japanese Main popular Brand )
We do PURCHASE and ASSESMENT for all kind of Used Crane, Used Excavator,Used Forklift.Any personal or company have the equipment want for sell or assesment,
please contact with us,we can sent our proffessional engineer go check and give the price offer within 24 hour , if can be accept we can deal on site .
Also we provide Free assesment for all kind of used equipment.
We do RENTAL for construction machinery, we welcome any construction sites ,factories,projects call for cooperation :
1. 50-300T Crawler Crane
2. 20-150t Truck Crane
3. 1-3T Baterry Forklift ,1-40ton Diesel Forklift
4. All kind of size Excavator
Our headquarters is located in Shanghai,which provides quick access to the visitors and for product distribution.
We have export to Middle East,Southeast Asia,South America.etc and many other countries.
We insist on the Honesty,Details,Quality,Service , Expecting to have a great and long-term business with all of yours .
Welcome to visit our company.
Mostrar todo el comentario
Importante
Esta oferta es de carácter informativo. Para obtener más detalles, póngase en contacto con el vendedor.
Consejos de seguridad
Contactos del vendedor
China, Shanghai, Jinshan District, No.255 Ganlin Road
Hora local del vendedor: 02:51 (CST)
¿vende vehículos o maquinaria?
¡hagalo con nosotros!